ESCRIBANA is a feminist blog dedicated to disseminating the voices of women, their organizations, institutions and movements, documenting and writing creatively about their personal and collective processes of knowledge construction and alternative strategies for social change.
ESCRIBANA is a social consulting agency with legal status in Costa Rica under the name Instituto Comunitario de Mujeres en Desarrollo y Comunicaciones (Women's Community Institute in Development and Communications), S.A..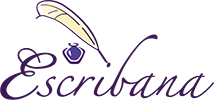 Founded as an online initiative in 2011, the ESCRIBANA website was destroyed by hackers in September 2015, including most of the articles, photos and videos. This is the new ESCRIBANA site, which is primarily a blog. We have been able to recover some of the content from the old site, but it is a very long and slow process.