By María "Cuca" Súarez Toro for Claridad,
ESCRIBANA
February 5, 2018
A novel initiative developed by the owner of the Jardin y Vivero Plantas de Caparra, Teresa Suárez Toro could become an example for families and communities to contribute to the reforestation of Puerto Rico in an inexpensive, beneficial and simple way, without having to leave their neighborhoods.
The origins of the proposal were simple, which is the way Teresa works. One day, sitting in the backyard of her house in Villa Caparra, she observed that her entire backyard was filled with young trees just 4 inches tall. She soon realized they were the heritage that "María" had left.
More than 100 small native trees known as "Maria" had sprouted from the ground following the devastation of the other "María," the hurricane that left the huge trees leafless five months before in September 2017. The shoots were a signal that native trees of Puerto Rico were growing back, defying the destruction of the hurricane.
It was not possible for Teresa to keep them in her small yard.
The following day, as she was pondering what to do with those tiny miracles of nature, she received a call in her plant store Plantas de Caparra from Andrew, an activist of the non-governmental organization (NGO) Para la Naturaleza (For Nature). He wanted to know if the nursery would have native trees to contribute to the reforestation of the island.
"Well, I have about 100 little "María" trees of "María" in more than one sense," she explained.  "They are shoots of the María tree and they were left on the ground by hurricane María." The delegate of the conservation organization, Para la Naturaleza (For Nature), told Teresa that if she took them to her store the following Friday, he would pick them up to re-plant as part of a reforestation campaign that they had started since Hurricane Maria with a goal to deliver 4,000 trees to schools and communities to plant and care for them.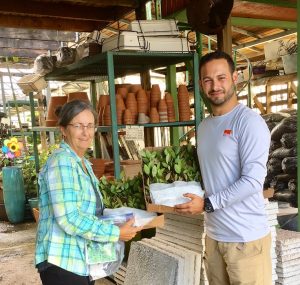 The conservation initiative is designed to contribute to the recovery of Puerto Rico through the reforestation of natural areas and urban spaces.
The day before the delivery, Teresa had called her neighbors to support her in the process of digging the shoots out of her yard for delivery to Para la Naturaleza.  Staff there were ready, in less than 24 hours, to put them in small sacks with dirt to to prepare them for planting throughout the island.
Teresa's 100 square feet of patio yielded 302 Marias and 40 Palo Blancos, another native tree of Puerto Rico.
"The native species are most resistant and that is why it is important to reforest with them," Teresa explained as she placed the saplings in a wet box and others in wet cloths. According to Para la Naturaleza, more than 547 species of native trees have been identified in Puerto Rico, among them the Algarrobo, the Ceiba, the Maga, the Cupey and the Ortegón.
Teresa explained that these native species are important because they fight pollution, protect against the impact of hurricanes, prevent soil erosion, provide food for birds and bees, provide shade and cool environments.
Rafael Ojeda Rexach, a 14-year-old, Teresa's neighbor in Villa Caparra, was one of Teresa's collaborators.
Rafael Ojeda Rexach                                

Rafael told ESCRIBANA that "it was very cool that my neighbor Tere did that from her garden to contribute so many trees for such a relevant campaign , but also that she called us her neighbors to help her because with that, she turned her action into a community activity to contribute to rebuild the environment and the country."
When asked what his message was to other young people,  Rafael said, "Oh, I told everyone the next day and they asked me to let them know because they would come to help too."
With the destructive paths of Hurricanes "Irma" and "María" through the Puerto Rican archipelago in September, 2017, an estimated 98% of protected trees were impacted. However, 8 out of 10 young trees resisted the winds.
"Trees that resisted and even those that fell are leaving us their offspring," Teresa explained, "we can help locate them in the right places to grow."
In order to support these citizen initiatives, the manager of Para la Naturaleza, Luisa Rosado Seijo is designing a protocol for people to identify native trees, learn how to transplant, report and even donate them for actions such as Teresa's.
"Anyone can participate," said Luisa. "If small trees appear in your yard or in your neighborhood, instead of passing the lawn mower over it, call to request guidance and take action in the campaign. Plant a tree from the hurricane legacy, do not let it die; the destruction has been enough, and can be turned into new life."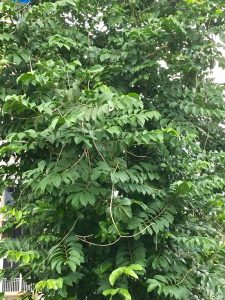 Another idea for a family project was developed by Teresa's own family in Vega Baja in October, helping to stabilize a native Emajaguilla tree that had grown in the sand on the beach in front of her family's house.
Practically flat on the ground and soaking in salt water, the tree began to sprout just 8 days after the passage of the hurricane to the point that, seeing it, Teresa was inspired to write the following in her shop's Facebook page:
"Nature was destroyed quickly, but is in a hurry to recover. Each tree that remained standing, each branch, although cut, today we recognize its importance. Let's follow the example of nature, let's continue doing our work, what is ours to undertake. Help is important but let's not wait for it. Lets us continue the GREENING and soon we will again be the inspiration of Antonio Caban Vale El Topo in his famous song to Puerto Rico  'GREEN LIGHT OF MONTE Y MAR'(Verde Luz de Monte y Mar).
The following Sunday Teresa's brothers and nephews brought tools to Vega Bajaj to help the Emajaguilla rise again by removing the fallen branches with the care of protecting the new sprouts, by straightening its trunk with a lift while  protecting his roots, giving it fresh water and  tying the tree to help him stay upright again.