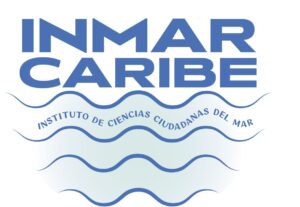 The Institute of Citizen Sciences of the Sea (INMAR Caribe) will be inaugurated on the 14th of October at 2:00 pm in the Malecón (dock) of the people of Cahuita in town.
The inauguration consists of a live broadcast on Facebook escribana live, with the following program:
1. Welcome and dialogue presentation of the Institute of Marine Sciences (INMAR Caribe) by Javiera Aravena, Leda Villa and María Suárez Toro 
2. Partial reading of the story in construction, "Oceanic Land: Continue Being, Until New Notice", is the title of the work in construction by María Suárez Toro, who, letting the sea speak for herself, combines science, mythology, history, imaginary and poetry. In the voice and protagonist that is the SEA, whose body has given us life and continues to give us everything: the climate, balance, food, minerals and my joy. And although this body of sea on the planet is very small (2% of the earth's mass), it has nevertheless been a source of life and nourishes everything; it balances everything and remains the same vital composition and the same quantity for centuries of millennia. Oceanic Earth is the one that has to talk to us for us to learn how to use our supposed small vital life giving and regenerative powers to contribute to the balance of our life in he planet.  
3. Presentation and ritual of 2 Kawe (Sangrillo) trees to be planted in Masa Marina of INMAR Caribe and one minute of silence for the victims of wars – war never ends conflict.
4. Drumming session in honor of the the sea  with a dynamic ensemble of Dani Williams of KAWE Calypso, Fabián Pacheco of Bloque Verde and Rodolfo Vargas and Oscar Jiménez of UNED, and more.
About the Institute of Citizen Sciences of the Sea (IMAR): 
It is an initiative in gestation in the South Caribbean of Costa Rica that will promote citizen science, communication and coastal marine arts in recognition, actions and services to support their symbiotic regeneration, their natural and cultural gifts and ancestry in marine waters and their coastal communities in collaboration with their regenerative marine-coastal initiatives, especially the Embajadoras/es del Mar Community Diving Center and the Festival of the Sea, among others.
 About the eclipse:
That October 14 in the Caribbean, an eclipse of the moon on the sun will be felt and seen in Costa Rica's Caribbean coast between 10:00 am and 2:00 pm. It is a lunar event characterized astrologically by being considered moments of liberation and letting go of what no longer serves us, because eclipses mark new beginnings." And ancestrally for our original indigenous cultures, they are a reminder that means new stars and new life in the universe. They  strengthen our connection with nature and the universe with a meaning of hope and new life. For African cultures, eclipses are part of the fractals of the universe, in its recurring patterns.