Giving the example, strengthening the sense of community and sea, the youth are an engine of change
Article by Sol Valls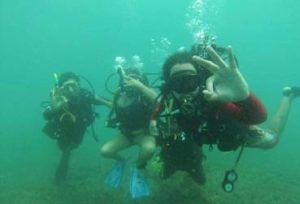 The Community Center for Diving and Ambassadors of the Sea is a non-profit social organization of Puerto Viejo, Costa Rica, founded in 2014 by local divers. Their goal is to create opportunities for the youth in diving with purpose and, in this way, generating a change that transcends generations, leaving a mark in both the community and the environment.

People call it a "Center" because it covers many areas and numerous activities. The goal is to produce the greatest possible impact, starting in the South Caribbean, but not limited to that geographic zone, promoting youth initiatives wherever possible. It doesn't matter how; often it's not known where the money will come from. But "if it has to be done, it is done, one way or another; usually, this is where the magic starts," states the president of the organization, Gloriana Brenes, with conviction.

Together, its members educate and train young people of different ages in diving, community underwater archeology, beach and seabed cleaning, palm tree planting, geo-referentiation, photogrammetry, lionfish capture, and coral monitoring and restoration. The mission is to combat habitat destruction, with the protection and conservation of the sea and its ecosystems, and species, always from a community approach. 
– That the young people as the agents of change are the key, because they are the future. Our dream is to be able to walk to the seashore and see a sea full of colorful fish and live corals. If the youth are the ones who put love and nourish this dream, you can be sure that the change is going to happen. For them it will be natural, innate, it will be their language. Instead of seeing a dirty rock, they will see a reef growing. They will see life, where [other] people don't see anything."

Gloriana (43) is one of those people who could easily live a thousand lives in 10 years. Born in San José, she has frequented Costa Rica's Caribbean since she was a little girl. She moved to Puerto Viejo twice. The first time was before starting university: "Though I had many interests, I did not have the clarity to opt for one of those conservative degree programs. Dad offered me to come with him until I made a choice. So I came, and learned to surf, and fell in love with the place. And I left, but the Caribbean thorn was already in me, and once inside you, you can be sure that, eventually, it will lead you back there."


And so it was, because, even though Gloriana spent several years giving a chance to the "normal life" of constant work to cover living-expenses – exhausting herself in the attempt of doing so, she eventually returned to where her heart was. "It was a cycle, I worked to pay for my son's activities so he would be entertained while I was not around. I was missing his upbringing. I needed a radical change in my life." It was this second-and-last move that confirmed that Gloriana's life-purpose was not in the city.

It's been nine years since Gloriana moved to Puerto Viejo. Apart from assuming the biggest responsibility of the Centro, she is the mother of Sangye (17),who already has a project supported by the InterAmerican Bank of Development. Her other children include Momo (6), her top warrior in palm tree plantation, and clearing and conservation and conservation of beaches, and Ayu (1), the youngest diver who keeps Gloriana company on her adventures, watching her out in the boat while she dives in. Her family are all also members of Ambassadors of the Sea, because "if I'm in, they all are."


Sangye's project consists of the creation of a subaquatic drone able to take 3D photographs underwater so that the old, disabled, or simply the ones afraid of the sea, can observe sea life, without having to actually immerse in the water. This in turn would benefit national parks, generating more resources because, even if the climate is not optimal, people could still visit virtually.  This would help reduce the human impact on reefs by reducing the number of diving groups; and it would contribute to the conservation of the ecosystem, promoting contact and familiarization with the natural environment.

***
They don't know that they know
For Gloriana, each member engages differently with the Center, going  through a personal growth process in which empowerment and maturity are inextricably linked. And, sooner or later, each of them understands that they–the youths–are the voice of the change, and that they don't need an adult figure to take the first step to begin their process.

-They tell you what they've done without considering it a big deal. Not until they reach a certain age, and looking back, do they realize they are experts in many areas. She said that they teach them to talk in public, and they become scared to death, stutter, and even faint, but they grow and empower themselves. Only from a distance, seeing their achievements from an external point of view, hearing the echo of their audiences, do they become aware of their own value.  To witness this process is the most gratifying aspect of it all. THIS is why she keeps trying to make time for herself, to take, bring, fill tanks, teach kids the habit of picking up trash and plant palm trees, organize camps for kids, prepare webinars, and so on.

***

WHAT I WANT as the starting point

– When you're a kid you know where your heart is, but when you grow up you forget because you abandon almost everything for the sake of rationality. Ask yourself what your priorities are. Because maybe what you care about is not what you're fighting for. Ask yourself so that you don't forget about it when you go around supporting big causes. 


Felix Morrison is 27 years old and comes from Meysey Hamptom, a small village in southeast England. His very first encounter with Puerto Viejo was in 2013 during an academic exchange when he studied Hispanic philology. It was during that first trip to the country of the "pura vida" that Felix became involved with the Sea Shepherd Conservation Society, cleaning beaches, and conducting investigations of the trafficking of turtle eggs.

For this ambitious young adult, it was a back and forth story between Europe and Central America, until in 2018 –this time not exclusively for his love towards nature– he came to stay. It was then that he joined the Center to work on coral reef conservation as a volunteer. Felix is also engaged in projects linked to the acquisition of land for  conservation. He lives on what he harvests; gets by on a bike, and the Center and the sea are his main priority.  
– I always knew my priorities are animals and the environment. Diving, and living  with a purpose, are what satisfy me the most. When I think about the burning Amazon, or about the deforestation of a jungle for the sake of a five-star hotel… my life loses meaning. I take it personally and do not know how not to take it this way. It's too preoccupying to look away and stay tranquil. This is the reason I continue doing things, even when they're small things. I'm landed, I know what my battles are.
***

The social component

– What I enjoy the most about my role in the Center is the possibility of getting to know people better, acquiring experience, helping kids out, giving the example to my community.


Esteban Gallo is 23 years old, he's passionate about outboard engineering and, although he was born in Limón, it's nine years today since he moved to Puerto Viejo.  There he lives a "calm but not too much" life with his siblings, who are also members of the Center. Here he met his first ever-lasting love: the sea.
"My dad says the first time I came here and saw the sea I started jumping inside the car," shares the youngest founder of the Center, adding: "We used to come here looking for life. We would put our masks and snorkels on and explore."

According to UNICEF's 2018's annual report, suicide is the third leading cause of death among Costa Rican teenagers aged 15 to 19 years old. In indigenous communities, this rate quadruples. Talamanca, the province with one of the biggest indigenous populations of the nation, is no exception.

According to Felix and Esteban, the main motives that lead to self-destruction for youth are lack of educational and job opportunities, and an identity crisis, which is common among youngsters who lack a sense of belonging to neither their ancestral traditions nor to the modern world, as well as exclusion and lack of support. "I think many of them could use being occupied with activities that connect them with their community. They need a kind of help that works," reveals Esteban.

For the modern Costa Rican, the main goal of the Center is showing the youth the existence of fun, healthy and productive occupational alternatives that do not rely completely on tourism, as not everything can depend–as we now understand–an unstable industry.  So the goal is to show youth that there is a way out, a chance of happiness while collaborating with common causes.

– As a kid my dream was to become an undercover agent," Esteban admits with a twinge of nostalgic irony.  Today my dream maybe is to become a great person by helping my community, giving the young people of Talamanca opportunities like the one I was given."

Esteban's personal project is to create a repair shop for outboard motors and diving equipment. The goal is that local fishermen and divers so don't need to go all the way to Limón, San José, or Panamá to have their machinery fixed–as they currently do–while avoiding unnecessary sea pollution with better quality maintenance.

***
The sea is our backyard

"We are aware of the existence of academic institutions and ONGs that are dedicated to nature conservation and, specifically, sea and marine ecosystems' conservation. Why does the Center provide a different insight into the subject?"

For the Center's president Gloria Brenes, the fact of being born and having grown up next to the reefs makes the difference. "When immersion time comes, where one sees a mountain of corals, they easily see a cavern. For them it's obvious, natural. They are full of empiric knowledge that cannot be found in books. Where they see, they find," she proudly claims, adding: "There's a tendency to assume that having a degree makes you more valuable than the fisherman who has 50 years working with the sea, when this is not necessarily the case".

Gloria's perspective is not too far from that of Felix, who explained that the fact that there is someone in situ taking care of the studied resource does not guarantee its protection. "An academic could finish their thesis and leave, while the Center leaves a mark. We train someone. We leave an entire community in charge. Here, the sea is our backyard, people lung-dive. We have no expenses and are ready to go tomorrow. The question is: are you in?"


Although for the talented Englishman –who, by the way, spends a large part of his days removing fishing line from corals –although a marriage between empirical and academic knowledge is necessary, the social component is the essence and should never be left out.  "With a local organization that ensures that children and grandchildren adopt the practices, you save time, tears, and effort. An outside NGO does not know if it will be there in ten years. Many times their work depends on donations, and when they expire they go and leave everything behind," explained Felix.

The Center's projects have an interest, not only in helping to  preserve the environment but also in creating opportunities for the local people to maintain the benefit for the system. They intend to produce results that are functional in the long term.

***
Trading time for experience

The dynamics of the Center consist of a fair and spontaneous distribution of tasks. Understanding who is available for each occasion, its members make agreements and operate. It is not a hierarchical organization, but horizontal. "It is a commitment of time in exchange for experience and knowledge. For hours and dedication, you can even win a scholarship to go to Florida, and that was the best adventure I had last year," noted Felix. He shows a glorious smile every time he talks about his trip to the U.S. Caribbean for special training in restoring corals with their now sister-organization, Diving With a Purpose (DWP).


***
The old and the young

Although the driving force behind the creation of the Center was to give the command of change to youth – giving them the opportunity to make the Center's projects their own, promoting the appropriation of their natural and cultural heritage – its members agree that there needs to be a balance between the mobilizing youth and the experienced wise adults who maintain order is key to its proper functioning.

"We are lucky to have founders who were not fooled, shut up, or bought. We are talking about the generation that fought against oil exploitation and many other threats. They are the ones who lead and guide us, our spiritual guides," explains Felix.

***
Coral planting and restoration project

A coral is an invertebrate that only lives and rebuilds in healthy environments. Coral reefs, also called "sea forests," form one of the most diverse ecosystems on earth.  They are fragile, due to their sensitivity to changes in temperature, and yet very necessary for everything to function.




Although coral reefs occupy less than 0.1% of the total surface of the oceans, they are the habitat of 25% of marine species. In addition to providing services to tourism, fishing, and protection of the coastline, they show us how life is in the ocean.

Today, these corals are endangered by climate change, ocean acidification, explosive and cyanide fishing, the exhaustion of their resources, and harmful uses of the land – such as agricultural and urban drainage, as well as water pollution-.

The Center's coral project consists of the search and identification of colonies of acroporids –a species of coral that builds reefs due to their accelerated growth rate– in order to create a gene bank. It generates multiple established plantations throughout the species' local geographic range – from Cahuita to Punta Mora – with actively growing transplanted colonies. The goal is that within a period of 5 to 10 years this species can be transplanted to the reefs, to restore them.

The United Nations Office for Project Services (UNOPS) and the Costa Rican Institute of Aqueducts and Sewers (AyA) will play no less a role in this project, funding a training program for the youth of the Center in diving skills and programs for the protection of the marine ecosystem — among them, monitoring and decontamination of corals.

Other project strategies to combat climate change are the creation of hybrid corals, which have greater resistance, and the identification of super corals, or corals of the future, whose performance is particularly good under stress conditions, such as extreme temperatures and water pollution.

"If we believe that without the ocean we will live another day, we are very wrong. Humans depend a lot on it. It is the ocean that does not need us," asserts Gloriana.

***
Conscious fishing and the lionfish invasion

"Fishing, hunting, if it's for survival, then it can be respected. If it's to exploit it cannot. If I eat meat, it is that of the invasive fish," declares Felix.


Another objective of the Center is to revive the guardians of the sea: Local fishermen, many of whose objective is to control fishing, protecting necessary species for the balance of the ecosystem from being killed. Parrotfish, for example, clean parasites that grow on corals and eat the algae that compete with them and smother reefs. In addition, each of these fish discharge up to 100 kg of white sand per year, counteracting the erosion of beaches.

Felix and Esteban say that it is common to find sharks with hooks in their mouths, dead, lying on the shore, discarded, and conclude that "when a resource is overexploited, something must be done about it."

Although lionfish are not a problem in their natural habitat – the Australian coasts and the Red Sea – they have posed a serious threat to the coral reefs of the Caribbean Sea for more than 10 years. It is a voracious predator without a predator and reproduces fast. It is capable of destabilizing marine ecosystems and altering local economies.

"It eats many species, yet nobody eats it. With its toxin, it frightens large prey. But it is not poisonous, and it can be eaten," explains Esteban, who regularly participates in fishing tournaments organized by the South Caribbean Artisan Fishermen Association, and in activities to raise awareness amongst the community on the invasive fish problem.

***
An empowered community

Culture, jungle, beaches, sea, biodiversity, a fishing village that lives in permanent communication with the reef. We are talking about an exemplar place that knows how to conserve its environment and how to maintain its essence over the last 30 years.  In contrast, in several Caribbean countries, almost everything has been privatized, urbanized, and commercialized, and the exuberant and virgin nature has ceased to exist as such. In Costa Rica, we are talking about an indigenous population that was not colonized, and lived, grew food, and was sustained by its environment without destroying it. We are talking about Puerto Viejo, a cosmopolitan, strong, and empowered community.

"I think it's ancestral, people have it in their veins."

Felix's dream is to see biodiversity flourish once again. "My ambition"  he says with perky humor because dreams are often unattainable, "is to make this as real as possible. No matter where, I want to be making an impact, living, and fighting for what I care about. Without this, I would not be able to find either happiness or satisfaction," concludes the young man whose life force is the direct contact with nature.

"I would like to tell the young people of Talamanca to think of themselves, to value themselves, and to follow their dreams, whatever these are. To not let themselves be crushed by anyone, to look for solutions, even when they cannot find them. To be strong," Esteban exclaims.

"I would love for us, as a community, to wake up and see that Talamanca has all the conditions to be a global example of that Costa Rica where everything is possible. To see that instead of overloading, destroying, abusing, and overexploiting our surroundings, we could live in balance. We could transform tourism into less impact with more respect. We could create a win-win economy. I would love for us to see the significance of these people, this mixture of foreigners, indigenous, black, Chinese, this community that wants to live, united, in a magical place", ponders the president of the Center, and admits that her dream is to see a youth full of hope and possibilities, who do not feel that they have to go to San José and get a bachelor to be something. A curious youth that discovers that by studying its roots, it can find its place in the world and understand how to take a step into the future, "because the course of our history depends on that," concludes Esteban.
Social media for Community Center for Diving and Ambassadors of the Sea
         Facebook
         Blog