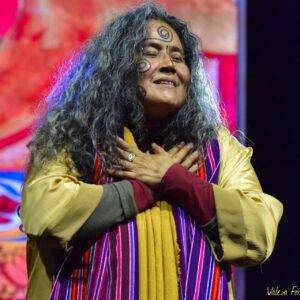 Guanacaste singer-songwriter Guadalupe Urbina returns to the stage this January 20, 2023 at Teatro Auditorio Nacional  Children's Museo Nacional in San José, Costa Rica,
She appears as "Mama Agua" in the play "Contramarea", in which she has a sui generis role as playwriter Kyle Boza masterfully creates the character which mythologizes the place of the feminine and its relationship with the waters in the history of her Province.
Guadalupe Urbina is not new to the role. She has dramatized other female characters, demystifying some myths and "re-mythologizing" others that had been hidden by official history.
The current actress of "Mama Agua" today, appeared on stage in the 90s and in the first decade of the new millennium with other musical interpretations such as: "Luna de Media Cara" in 1992 and "Mother of the Sea" in 2007.
Created by her with different feminist collectives of women advisors and co-creators of the characters she dramatizes, her musical productions have made history in San José in Costa Rica, in Amsterdam in the Netherlands and on Broadway Theater in New York in the United States.
 "Malinche" in Feminist Theater in Costa Rica
At the One Woman Show Festival, Guadalupe presented her work "Luna de Media Cara" and in it she plays several female characters, including Malinche, who marked a milestone in the history of the feminist reconceptualization of historical "fake news" by today's standards when women appear as those responsible for the evils of betrayal of their people during colonization.
In the one woman how and song "Malinche", Guadalupe reinterprets  in feminist paradigms a famous protest song by Gabino Palomares, "La Maldición de Malinche", sung and heard by many of us in Managua, Nicaragua in 1983 and so popularized in all of Latin America. It challenges subordination to colonizers and calls it the "curse of Malinche" in its woes.
The version of the song by Guadalupe, of the theatre show by her together with Paula van Ginneken and support of a feminist collective, including historian Anna Arroba, was critical of the reinterpretation and reconceptualization of an emblematic character in the history of the colonization of our continent as Malinche was in Mexico during the conquest.
The show presents data on a silenced version of the origins of the enslavement of Malintzin, of Nahuatl origin, known as "Doña Marina" lover, interpreter and adviser to Hernán Cortés, conqueror of conquerors in Mexico. She had been given to him by indigenous enslavers as a "booty" of the wars among them before the Spaniards appeared, and again, was given away.
Advisor Anna Arroba, for whom  women have no history – because we are not included in its records – what we have is memory and we need to tell our stories.
For our memory to become herstory or femoria, women have to share our experiences, tell them, sing them, dance to them, write them, cry them and celebrate by naming the world in our own paradigms.
Those of us who were here at its original presentation at the University of Costa Rica can hardly forget the key moment of its dramatization and in the song itself, when in the middle of it on the stage, we are called to question ourselves. It was the first time I understood that women have to challenge official history in order to build our own story.
In addition to having been presented in Costa Rica in 1992, "Luna de Media Cara"" it was presented at the Broadway Theater in New York in as one of the famous "One Woman Shows".
As one of the attendees at that international presentation, the USA women's human rights lawyer, Rhonda Copelon recounted, "touching the common interpretation of Malinche is, as you say, touching the bull's balls – adding that  – added to Guadalupe's courage that day her tremendous performance challenged us all".
       "Mother of A Sea Change " in Theatre in the Netherlands
Two decades later, in 2007, together with Gladys Chiny and Larissa Coto and accompanied on piano by Leoncio Jiménez, a concert in Guadalupe presented for the first time her also emblematic song "Madre de la Mar".
The auditorium of the State Distance University (UNED) was the scene of the song produced by her for another play, which premiered on December 1st at the Women's Theater Festival Women Inc. in Amsterdam, Netherlands. The annual event organized by women from that country, brought together important plays from the Netherlands and a selection from other countries around the world, Guadalupe's show representing Costa Rica's feminist art.
The musical and theatrical work by Guadalupe Urbina in Costa Rica was a product of another feminist collective working with her to  design artistic feminist proposal. The collective included feminists such as lawyer Alda Facio and psychologist Constanza Rangel.
 The show was inspired in my book  Women Methamorfosis of the Butterly Effect  that tells true stories of women who throughout history have challenged and transformed sciences based in the alternative paradigms with which they construct knowledge.
Guadalupe won an international award by the GAEA Foundation for such production within Alas de Mariposa.
(end)